The Umbral Empire
2017-2022
Background
The Umbral Empire
is a series of work referencing an incident between Columbus and a solar eclipse. In February 24, 1504, Christopher Columbus was stranded in Jamaica where the locals were resourcing him and his fleet. When the First Peoples of Jamaica ceased to support Columbus, he used an eclipse mapped on the calendar of Regiomontanus to manipulate the locals, making them believe that he caused the moon to swallow the sun and subjecting them to his will.
The centrepiece of this series is
When Conquest Swallowed The Sun,
originally presented in the group show
Beyond The Veil
curated by Jake Treacy (2018) using a hanging perspex, round lightbox and a projector. Later it was re-installed as a large scale banner for
Aeon Resurecction
also curated by Jake Treacy (2022) at Incinerator Gallery.
---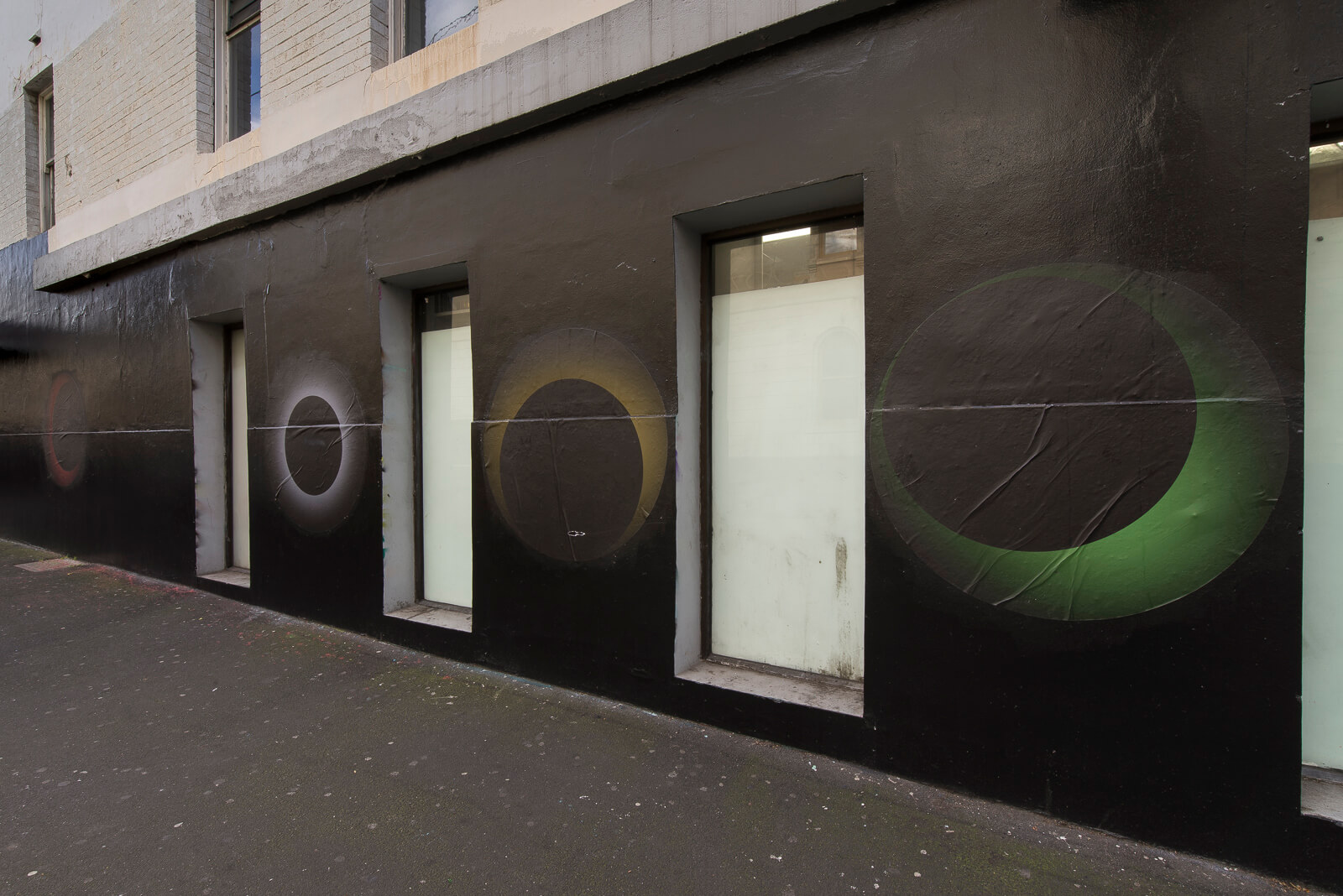 In the past, Ramírez has deployed this mechanism to create a series of public artworks. Most notably one in the facade of Deslave Gallery, located in the street Cristobal Colón (Christopher Columbus).
---
Ramírez also focused on the eclipse framework for his solo exhibition at Deslave, Tijuana, in 2018. Where he presented pieces from his show
The Umbral Empire: Prologue
(2017) and
Postcard eXotica
(2016-18) in relation to the
When Conquest Swallowed The Sun
(2018-22).
---
Background


The goal of this exhibition was to find an idiosyncratic method to look at images and remake them. It considers the idea of an eclipse, to think about the layers of meaning (beliefs, interpretations, worldviews) sitting on top of images. Since the artist is Mexican and often thinks about colonialism, he was mostly interested in how 'race' interferes with our encounter with pictures. This is like the moon eclipsing the sun, blocking light and creating darkness. To explore this thought, the artist collects stereotypes from popular culture, such as Ricky Martin (Latinx) and Zac Effron (white), and edits them using photoshop. He makes them look like monsters reasoning that something that's been in the dark for so long, inevitably becomes distorted. Then he uses mediums that emit light but are blocked by a layer on top, to showcase these experiments with pictures. This imitates the logic of an eclipse, where an object sits on top of another. The light box is a great example of this, for a sheet of perspex sits on top of neon tubes emitting light, to show an image.
From the artist statement:
"The Umbral Empire: Prologue
is a project comprised of pictures mounted on light boxes, a moving image stereoscope, and an off-site mural. Its aim is to articulate colonialism as a prolonged eclipse. The logic of this scenario entails irreversible anomalies: bodies that were deprived of light in a cosmic event that stretched out for centuries. This work is concerned with conceptualising the return of these shadowy aberrations. To this effect, the artist appropriates images deemed to contain racial connotations and digitally reconstitutes them. A process that began by sourcing pictures of media personalities from different post-colonial countries and bluntly extracting parts closely associated with their identity – such as eyes and several limbs. The remaining fragments were then reimagined as ghostly creatures and arranged in an eclipse formation where they are always obscuring a source of light (that also causes them to glow). The main aim of this exercise is to defile the original form of the image and bring forth something horrible. The artist describes this method as
monstrification
, and is careful to explain that it is modelled after the corrupting effects of colonialism and the legacies of its violent acts of domination. The result is a spectral system of racial signs that return from the deep shadow to terrorise the
here
and
now
. "