When I was a child, I used to dress like El Diablito
2021

Background
Diego Ramirez recreates his childhood memories in a series entitled
When I was a child, I used to dress like El Diablito
. The set of four photographs consider how we demonise people from other places. Drawing from a 1959 Mexican film,
Santa Claus vs The Devil
, where the English dubbed version gave Santa an American accent, but preserved the Mexican accent of the Devil, Ramirez reflects on the conflation of racial markers and devilish features—such as mischief, disorder, and chaos. He previously touched on this area of interest in a different context for his essay
Racial Phantasmagoria: The demonisation of the other in Richard Mosse's 'Incoming'
(2018), where he begins charting how the Western gaze displaces demonic fantasies onto others. And teased some of this symbology further in his paper
Iconographic Necromancy
(2020) for the Dark Eden conference, where he looks at the Statue of Baphomet erected by The Satanic Temple.
One of the aims of this work is to wrap the evolving taxonomy of the devil in the aesthetics of selfie culture, epitomised by the lifestyle glasses and prosumer sensibilities of the photographs. Following the logic of re-staging and thinking through a childhood memory, the artist wanted to understand how the stereotypical image of Satan in the movie
Santa Claus vs The Devil
came to be.
Ramirez began by looking at the how Medieval perceptions of the devil as a hybrid beast led to the image of the fallen angel as a humanoid and horned entity in the Renaissance. The wingless apocalyptic demons in Lucas Signorelli's fresco
The Damned Cast into Hell
(1499-1504) typifies how artists stopped relying on abhorrent forms to represent vileness and instead leaned on the proximity of evil as part of a wider concern with humanism. The horns, as it is well known, is a transfiguration of the Greek god Pan and the Roman Faun that symbolise the heresy of paganism in the monotheistic mind.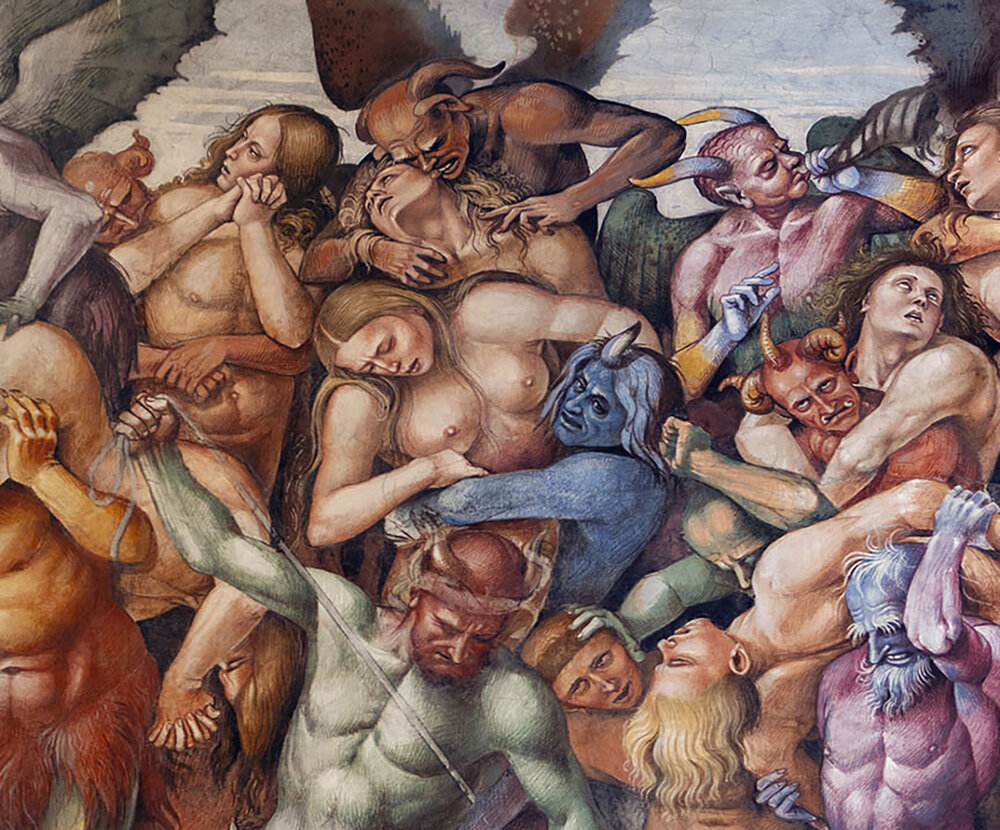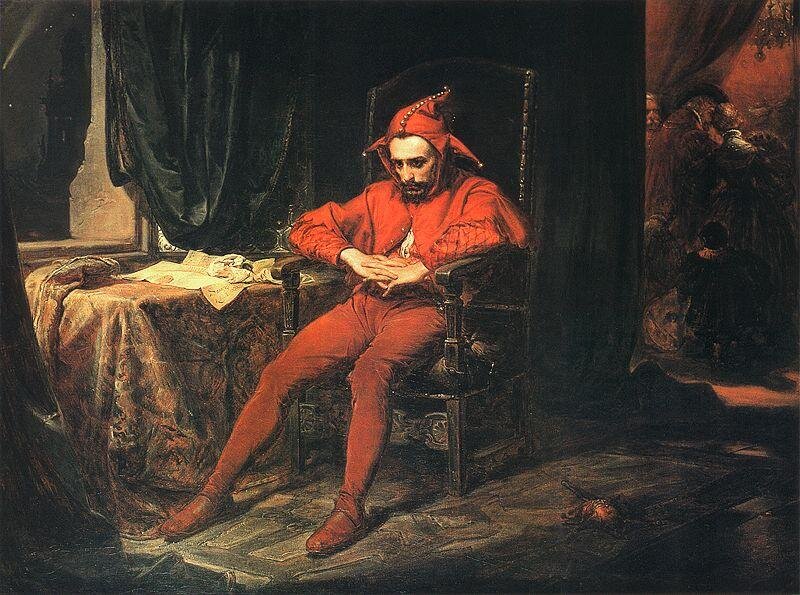 The red colour associated with blood and hellfire is largely consolidated by the pictorial influence of Mephistopheles in the Modern plays of Faust, a character who contracts a human soul in exchange for knowledge. Fabio Cipolla's painting Marguerite, Faust and Mephisto, Scene from Faust by Charles Gounod (1900) shows how this iconic wardrobe starts to resemble the campy and theatrical visage of Satan in the 20th century.

This is also true of the puffy shorts, which can be seen in lithographs of the play. In the context of the play, this clothing arguably reference the figure of the Jetser to convey the treacherous nature of Mephistopheles. Jan Matejko's representation of the Jester in Stańczyk (1862) shows the similarities between ideations of the court Jester and Mephistopheles. While this painting does not feature puffy shorts, it is clear that in the 20th century, they are meant to situate the devil within campy Medieval conceptions of the fool.